UPDATED: 1-28-2015
I fell in love with the Catera when it debuted in 1996 as a 1997 Model, and was blown away by the supercharged Steinmetz Concept Car of 1999. Sportier, and more agile than any Cadillac ever, the RWD Catera was different from all the American FWD junk out there. I wanted one, but quickly gave up on the idea. At over $30,000 the Catera was too rich for my blood at the time, what with alimony, child support, and all. Plus, Cadillac's stupid "Ziggy the Duck" promotion was embarrassing. I know they wanted to attract a younger demographic, but a cartoon character? It made a joke of the car before it had a chance to establish itself in the market. Not even Cindy Crawford's ad presence could make up for that. BMW advertised its cars as the "Ultimate Driving Machines", but GM decided to sell the Catera as "The Caddy that Zigs"? Why would I buy a car that wasn't respected by its own manufacturer? Why would anyone?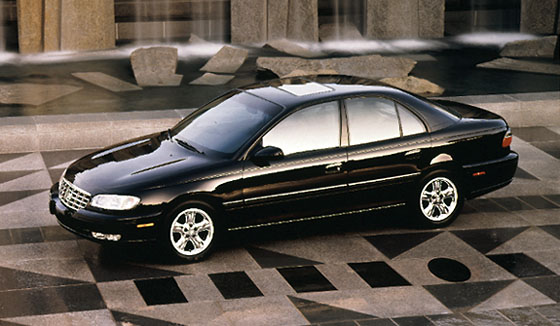 1997 Cadillac Catera
Ziggy the Duck
The Catera wasn't a homegrown Cadillac project. GM saw the success that foreign automakers were enjoying in the US sport sedan market segment and decided they wanted a piece of the action. It was "suggested" to Cadillac that it quickly fashion a sporty car to attract the Yuppies. They had tried "sporty" years earlier with the Allante, but even with Pininfarina styling and a NorthStar V8, it was the wrong car. The Seville STS, while a great looking car, was too big and heavy to pass for a sport sedan. Touring yes, sporting no. Besides, GM wanted a rear drive platform to match the European competition. With no time or money to design and build one themselves, nor finding anything suitable they could co-opt from GM's stateside stable, Cadillac searched GM's worldwide holdings. They found the Opel/Vauxhall Omega B. Designed and assembled in Germany as a RWD platform, with a British built GM V6 engine (used also in some Saturns and Saabs), and a French built GM transmission (used also in BMW's 3 & 5 Series).
This was no warmed over Chevy Cavalier like the Cimarron. The Omega was a genuine rear drive sedan born & bred to fly down the Autobahn and devour sharp twisting Alpine roads. This midsize European executive sedan was the foundation for the Cadillac Catera. The Holden Commodore (Australian cousin to Opel's Omega) might have been a better choice, seeing as Australia and North America shared similar geography and weather, but being right-hand drive the cost of retooling it for left-hand drive might have eliminated the Commodore from consideration. Wider and equipped with a GM 5.7 Liter (350 cu.in.) V8 it might have been more acceptable to potential American buyers as a Cadillac, and equal in performance to the German competition. Oh well......
In the early '90s Opel & Vauxhall built a world class super sport sedan based on the rather ordinary RWD Opel Omega A platform. They handed it over to Lotus, then also owned by GM, where its 3.0L Inline-6 grew to 3.6L, with twin-turbochargers, generating 377 HP and 419 lb·ft of torque. Its drivetrain consisted of that 3.6L engine plus a ZF 6-speed Corvette ZR1 transmission, with a Lotus tuned semi-trailing arm IRS w/Limited Slip Differential (LSD). The Opel Lotus-Omega / Vauxhall Lotus-Carlton was the world's fastest production sedan of its time. Top speed was 177 MPH, with 0 - 60 MPH attained at 5.2 sec without governors or other restrictions (unlike the Catera). Not only fast and quick, it handled like the Devil's own racecar. Before today's multi-clutch transmissions, electronic traction controls, and active suspensions, the Lotus-Omega carved its way around the track "old school style" with skilled feet on the pedals, and quick hands at the wheel and shifter. Tires squealing and smoking said you were doing it right.
1990-1992 Opel Lotus Omega
Obviously Opel had the credentials for building the world class sport sedan which GM wanted the Catera to be. Per GM MediaOnLine 2000:
"Launched in the fall of 1996 as a 1997 model, Cadillac Catera is part of a global GM vehicle family that includes the Opel and Vauxhall Omega MV6. Catera was developed as part of a cooperative effort between the Opel Technical Development Center in Germany and Cadillac's world headquarters in Michigan. It is built at the Adam Opel assembly plant in Ruesselsheim using components from GM's German, French, British and North American suppliers. The Catera Sport joined the lineup in May of 1999 to appeal to the sport-oriented set — buyers with a keen interest in expressive styling as well as the desire for a higher level of handling and control."

With the CTS still on paper and far from production, and all that sport sedan money slipping through GM's fingers, not to mention its customer base growing older, Cadillac had no choice but to proceed with Omega/Catera project. But who could blame Cadillac for its lack of enthusiasm? The Omega B started development in the late '80s and began production in 1993 so Cadillac had no hand in any of its planning, engineering, or styling. Remember, the Catera hadn't even been proposed at that time. Why would they be thrilled about putting their proud name on someone else's car? To Cadillac's credit, they took the lessons learned from the Catera experiment (plus I'm sure a bit from the Lotus-Omega) and applied them to making the CTS a true match for the Euro sport sedans when it debuted in 2003.
Extensive testing at Germany's Nurburgring racetrack helped the CTS match or surpass Europe's best. One omission Cadillac corrected with the CTS was to include a V8 model. Then came the coupe and station wagon versions. Opel had an "estate" version of the Omega B but Cadillac passed. Another was to make a true world class high performance version; the CTS-V. The Catera Sport was more of an appearance package. It included a slightly lower, slightly stiffer & firmer suspension, with bigger wheels & tires, and of course the mandatory rear wing, but the rest was pure show. The Sport had no extra power to back up her looks. The Omega V8 would have fixed that but, naturally, GM killed it shortly before its debut. By the way, CTS originally stood for Catera Touring Sedan. Cadillac won't admit it today but when the CTS was first proposed, that was its name, just like STS (Seville Touring Sedan) and DTS (Deville Touring Sedan). But that was early during CTS development, before the Catera's reputation was ruined and sales plummeted. After that Cadillac down-played the Catera/CTS connection.
Little money was budgeted to give the Catera a Cadillac family resemblance. No new sheet metal so a front bumper cover (incorporating fog and cornering lights), a Cadillac styled "eggcrate" front grille, and a trunk lid with LED center brake light strip. Oddly, the rear fascia got a full width rear light treatment that even the Omega never used. Very un-Cadillac. Next came the Omega Elite's leather interior and near luxury comforts. Major changes to the Omega's engine management system were also needed to convert it to America's OBDII. Not yet satisfied, Cadillac ordered still more revisions before this altered Opel Omega B became the new Cadillac Catera.
1997-1999 Pre-Facelift
And what other revisions did Cadillac order? Its engineers instructed Opel to add 400 lbs. in chassis reinforcements and sound deadening for a "Cadillac feel", to de-tune the engine from 220HP down to 200HP, to govern the top speed to 125MPH from 150MPH, to delete the 5-speed manual transmission, in addition to passing on the Limited Slip Differential (LSD) option. Cadillac ordered recalibration of the Omega suspension from autobahn firm to boulevard soft. The suspension was originally meant to be identical to the sporty Omega MV6 but Cadillac nixed it and ordered the softer Omega Elite tune. It was still firmer than the usual Cadillac, but not what you'd call sporty.
Granted, the chassis reinforcements were needed to pass Federal crash tests but adding weight while reducing power was just plain stupid. Heavier than the Omega by 400 lbs. but without its 220 HP? By rights the Catera should have had 20 HP more than the Omega just to make up for the weight and maintain parity with the competition. And no 5-speed manual transmission or LSD? Why? Their target buyers were younger people looking for driving excitement not seniors with arthritic knees. Enthusiasts, not occupants. What happened to "
the sport-oriented set — buyers with a keen interest in expressive styling as well as the desire for a higher level of handling and control
"? Shifts with an "auto-stick" or paddles might've been acceptable. No mention of increased power but with no American "autobahn" available, handling and control are even more relevant. So why didn't we get the MV6 suspension they alluded to? North America has more than its fair share of coast roads, river roads, mountains, and hill countries. The Caddy that Zigs, indeed.
Why did Cadillac water down Opel's design? Who knows? Maybe, it being a rushed project, they relied on their existing customer database and, erring on the side of caution, tailored the car to fit past buyers. Maybe they polled potential sport sedan buyers what they'd like in an American sport sedan but didn't trust the results. Why were sales down from expectations? Initially sales were good ('97 - 25,411 & '98 - 24,635) but "Ziggy the Duck"? "The Caddy That Zigs"? A cartoon character and a cute catch-phrase? You don't impress potential buyers and get them to spend $30,000 by talking down to them. Plus several mechanical issues, resulting in a 1999 recall, tainted the Catera's reputation and invited comparisons to the Cimmaron. By the time Cadillac realized their mistakes, addressing the oil cooler and timing belt tensioner, plus upgrading to Omega MV6 kit with the Catera Sport, it was too late. The buying public stayed away in droves.
Catera production ended in 2001. European production of the Omega continued until 2003. There are rumors that a few 2002 Cateras made it to the US. One was supposedly sighted in or near Chicago by a forum member. Supposedly it was equipped with the upgraded 3.2L (LA3) V6 used in the CTS and a 5 speed manual transmission but it was never verified.
"If they're ain't no pictures it didn't happen"
. An Opel Omega V8 with a 5.0 Liter Chevy Small Block (LS1) and a 5 speed Corvette manual transmission was ready for production and weeks away  from debut when GM canceled it due to engine cooling problems. Huh? The Small Block? Haven't they been cooling that engine since 1955?
Compared to the Ford Taurus SHO, the only car close to being an American sport sedan at the time, the under powered Catera was still a sport sedan but the souped up Taurus wasn't its real competition. The SHO was more of a FWD muscle car and not designed to handle like the European sport sedans. Ford came closer with the Contour SVT but again, it was FWD. Ford realized they needed a RWD sport sedan,same as GM, and introduced the Lincoln LS6 and LS8 which were within the Catera's design parameters but a little more on the luxury side than sport. GM was looking to compete against the foreign models sold here like the Mercedes C280 and the BMW 3 & 5 Series cars, all RWD. Also included were,the Audi A6 despite it being FWD (including the AWD Quattro models), and the Jaguar XJ6 (despite being more touring than sport). Acura, Lexus, and Infiniti had sport sedans too but not in the requisite RWD.
In the '80s Ford tried to transplant the "Ford of Germany" (FoG) Sierra and XR4Ti (Sport Sedan and Coupe) into the American market both RWD. They were good performance cars but Ford's failure was in their marketing. They would have sold better as Mercurys like the very successful '70s Capri, also from FoG. Instead the Sierra and XR4Ti were sold here under the confusing Merkur banner. Mercurys or new cars from a new division? No, they were cars already in production at FoG but unknown in "The States". American car buyers didn't know what to make of them. Many of the more  simple-minded couldn't even pronounce Merkur. We Americans are a suspicious bunch so few bought them. Our loss.
The automotive press today group the Catera with the Cimarron as one of the worst Cadillacs ever, though their first impressions were favorable. The comparison to the Cimarron wasn't fair. The car was a Chevrolet Cavalier, 4 cylinder "Iron Duke" engine and all, trimmed to look like a Cadillac. They later fitted it with a 2.8L V6 but made no other substantive changes to improve the car and justify the price they were asking. It was an economy car, poorly built, with none of the Cadillac excellence buyers expected. The Opel Omega was an executive sedan designed with the Autobahn and Alpine roads in mind. Unfortunately Cadillac de-tuned them to protect the frail American drivers from themselves not to mention for the poor American roads this reworked Omega would navigate. So that, plus the Elite's leather interior, a few Cadillac badges, and some body colored trim, turned them into Cateras. Lightyears better than the Cimarrons but once the connection was made nothing, not even the facelift and Sport versions could remove the stink. Not saying the Catera didn't have problems just that she wasn't the fraud that the Cimarron was. If Cadillac was truly serious about competing against BMW, MB, et al they should have addressed those problems.
(1997 Cadillac Catera)
As for those problems, if you want a Catera shop carefully. Within days of buying mine, in November 2006 at 48,000 miles, I had to have the Heater Bypass Valve replaced after it puked most of the engine's coolant. I didn't do my homework. Had I known about the Catera's inherent problems I'd have had the seller inspect and replace it prior to my taking possession. I saw a pretty car at a great price. A German Sport Sedan in Cadillac trim. I later had the leaking camcover gaskets replaced. The crankcase breather was clogged which increased internal pressure, forcing oil past the gaskets and onto the exhaust heatshields where it smoldered. Two years later the Crankshaft Position Sensor (CPS) failed and left me stranded. AAA to the rescue. The '97 - '98 Cateras had the most problems. Some were addressed, but not necessarily cured, in '99. The 2000 - 2001 models are less trouble prone but not perfect. When you find a Catera that looks good on the outside, here's what to look for on the inside.
• Have Cadillac check the VIN for the cam-belt tensioner bulletin #02041A. This is critical. If the tensioner seizes the belt will break and the pistons will bend the valves. All 24 of them. This service must be done every 5 years/50,000 miles or sooner. If there is no record of this being done,
DO IT IMMEDIATELY!!
• Replace the Crankshaft Position Sensor (CPS). If it fails your Catera will stall and not restart until the sensor cools. Eventually it will quit altogether and strand you. Located near the oil filter, it's easy to replace and fairly inexpensive for a Cadillac part.
• Check the engine oil for coolant contamination. It will appear as a cream colored emulsion residue under the oil filler cap and maybe the dipstick. Wipe it off and drive the car at operating temp for 30 minutes. If it doesn't reappear it was probably normal water condensation and boiled off. If it reappears it could be antifreeze in the oil. Another indicator is oil in the coolant reservoir. They all indicate the oil cooler is leaking and needs replacement. Left alone it will burn your engine's bearings and clog the radiator and heater core. A laborious but relatively cheap repair (for a Cadillac) if you do it yourself. Improved coolers were introduced in '99.
• With the engine running, check the coolant tank for bubbles or an exhaust smell. That's probably a blown head gasket. It's not that common but does happen. We suspect worn out coolant is to blame. Acids in the old coolant attack the gaskets. Perform a "Block Test" to verify.
• Have the Heater Bypass Valve (HBV) behind the engine replaced. It's not expensive as Cadillac parts go and the labor is DIY easy. If you wait and it leaks it could puke all your coolant, the engine will overheat, and the aluminum heads will warp. The spilled coolant can also damage the DIS ignition pack on the '97-'98s.
• The cam cover gaskets can leak and drip oil on the exhaust heatshields and create smoke. Cleaning the crankcase breather relieves the excess crankcase pressure that blows oil past the gaskets so you must clean it out. This is very expensive if you let Cadillac do it. They charged me $750 including the gaskets. Order the gaskets and have a trusted local garage do the work or DIY.
• Check for tire wear front & rear. Cupping or feathered edges, and/or violent shaking while braking, indicate worn/split front & rear control arm suspension bushings. OEM replacement bushings are available as well as some polyurethane substitutes. New front suspension arms come with the stock bushings and ball joints already installed so that's an option too. Whichever fix you choose you'll need a wheel alignment. The camber settings mean the inside tread edges will wear before the rest of the tire. There's an aftermarket eccentric bolt available that will extend the front camber adjustment's range by +/- 2 degrees over stock to help bring it to where the tires wear more evenly. Eccentric rear suspension bushings for the Pontiac GTO, G8, or Opel/Vauxhall Omega, adjustable for camber, will fit the Catera and do the same for those tires. 
There are other things like weak door stays, cracked brake light switches, EBTCM failure, cracked radiator end caps, and HVAC control malfunctions. Search the forums for more info. Most irritating are the computer gliches and sensor failures which leave you stalled and stranded. Given the level of electronics in cars today and the harsh environment they operate in I doubt the Catera is worse than other cars. A failure is never an easy thing to endure but this is the 21st century and electronic controls are here to stay. Thanks to the database, on this and other Catera/Omega sites, information is available and you can go to your chosen service facility armed with knowledge.
My car has suffered the HBV leak, CPS fail, a radiator leak,  3 failed ignition coils, and an EBTCM failure. I did have the timing belt & tensioner replaced plus the serpentine belt and its tensioner. The lower control arms were rebuilt, swapping their front/horizontal bushings for polyurethane ones, as well as new rear/vertical bushings and ball joints. The front anti-sway-bar received polyurethane bushings too plus new anti-sway-bar links. All the cooling system hoses, all filters, all fluids (including the differential oil), the cam cover gaskets were replaced, and the crankcase breather box was cleaned. I haven't had the Transmission fluid changed yet because it shifts so sweet but at the first sign of trouble she'll get new fluid and a fresh filter. UPDATE: The transmission refused to shift into 3rd and 4th gears so I had it replaced with a used 4L30E transmission. Two years and so far so good.
You'll notice that many of those were maintenance items and that's my point. The Catera has many faults but most are due to lack of proper upkeep. Owners neglect the car's regular maintenance and then blame her when something goes wrong. One legitimate design flaw, however, is the robustness of its suspension parts, or lack thereof. European roads tend to be smoother than our pocked and bumpy ones and no allowances were made for them in the Omega's transformation into the Catera. The price we pay is frequent suspension repairs like worn bushings, broken springs, and premature tire replacements. The desire for better and longer lasting suspension bushings drove me to find polyurethane ones. I found them, plus high performance dampers, springs, brakes, and more. I've since upgraded my Catera Sport's with Koni Sport struts & shocks, Powerflex poly-bushings, and GTO front brakes among other things.
My Catera Sport handles like she's on rails, and stops on a dime. Energy wasted scrubbing the tires into black dust by worn suspension bushings is now directed towards better handling. I drive her hard like I'm sure many of you do and that's taking a big chance if you don't address past abuse and neglect. Don't forget, many of these cars are almost 20 years old. Lots of potential problems waiting to bite us in the butt if the previous owners didn't perform the scheduled maintenance properly and timely. You want a more dependable Catera? Then you'll have to bring her neglected maintenance up to date.
Sounds bleak doesn't it? Don't get me wrong. It's not all gloomy. I'm just a "bad news first" type of guy. I love my 2001 Catera Sport. I bought it in 2006. Some call the styling dated and bland. Sue me. I like it. It's soft and streamlined compared to the new edgy origami-like stealth fighter look Cadillac is pushing nowadays. Mine gets compliments all the time. And what about the "Koreanesque" type styling the Germans have adopted with all sorts of sheetmetal sculpting and weirdness? Just look at the latest Mercedes Benzes and BMWs. They look like Hyundais and Kias. Makes me wanna gag. The Catera's '97-'99 prefacelift models have an aerodynamic form with a steeply sloped grille and low profile hood. Their rear treatment features body width tail lights.
2000-2001 Facelift
The 2000/2001 Catera introduced facelifted front & rear facias, side mirrors, as well as a restyled interior. The grille was more upright with a slightly raised hood for a more formal look that better matched the rest of the Cadillac line. The rear lost the full width lightbar and gained separate corner tail-light units with LED turn signals. Not quite the traditional razor thin Cadillac "Tail-Fin" lights but closer to them than full width ones. All Cateras have smooth body sides with no need of lines and creases to clutter their simple beauty. Like young girls with too much make-up, or heaven help us, tattoos & piercing, the other carmakers are trying to be stylish or just plain different. The Catera was never a big seller here so there is nothing in the way of aftermarket styling upgrades beyond custom wheels. There is still some body stuff like grills, airdams, spoilers & wings, from Irmscher, Steinmetz, and others in Europe, for the Omega that will fit the Catera but they're rapidly becoming scarce and are expensive to import. If you're looking for Euro parts and accessories and have a facelift Catera it helps to search for Omega C. No such animal but it's mistakenly used anyway.
The Catera has a roomy, comfortable cockpit for the driver and I never hear the rear passengers complain (except for the poor unfortunate stuck in the middle). I occasionally spend 6 hours or more behind the wheel and arrive without stiffness or sore spots. The front seats are comfortable and supportive with power memory. Adjustments include power fore/aft, power height & tilt, and power reclining seatback. I just wish they had thicker side bolsters. All Catera front seats were made by Recaro. Some came with Sport Seats equipped with manual adjustments, extendable thigh support, and thick side bolsters. Ironicly the Catera Sport I own didn't come with those sport seats. I believe most if not all Cateras came with heated front seats. Some came with heated rear seats as well. Even the side mirrors are heated. The HVAC has separate driver and passenger zones. The steering wheel tilts but unfortunately doesn't telescope. Along with an airbag the wheel also has remote stereo control buttons. The cruise controls are on the turn-signal  stalk to the left of the wheel. The leather interior's styling is clean without Cadillac's traditional bordello plushness. It's very Teutonic. There were few options as the Catera was well appointed but there was an available sunroof, a power rear window sunshade, and of course the Sport package. The standard stereo was good but the optional Bose system was better. Superb actually.
And then there's the Catera's performance. Compared to her direct competitors, like the BMW 3 series (specifically the '92-'99 E36/'99-'05 E46) our Catera is overweight (3770 lb.) so her 0 to 60 times suffered (8.5 versus 6.9/6.4 seconds). Strangely enough the BMWs' straight 6s had less HP (189/193 HP respectively) against the Catera V6's 200. Their quicker 0-60 times are probably due to their lighter weight (3038/3261 lbs respectively) and manual 5 speed transmissions. In spite of that for normal, and even slightly illegal, backroad driving the Catera is a joy. In the transmission's Sport mode the she accelerates quickly (once above 30 MPH) so watch the speedometer. You'll be doing 90 MPH before you know it.
L81 3.0L V6
The Catera's V6 displaces 2,962 cc (180.8 cu in). It has a cast iron engine block with cast aluminium alloy cylinder heads, 4 valves per cylinder, dual overhead camshafts, driven by a rubber timing belt, and makes 200 HP/192 Lb-Ft Torque. This engine differs from many modern V6 engines in that it has a 54 degree cylinder bank angle; as opposed to the more conventional 60 degree setup. This made for a very compact engine. This engine loves to rev and has a 6500 RPM redline. She's a thirsty wench though (17mpg - city/24mpg - highway). She'll drink Regular (86 octane) but really comes alive on Premium (93 octane). The ECM adjusts the ignition timing accordingly using knock sensors. The 1997-1998 engine used a Distributorless Ignition System (DIS), a conventional cable actuated throttle, and a variable length intake system called the Dual Ram. In 1999 the engine received updates like Coil-On-Plug ignition, which eliminated any voltage losses across conventional spark plug cables, a Fly By Wire (FBW) throttle, and a Multi Ram Induction system, all of which carried over until production ended in 2001. Both the Dual Ram and Multi Ram Inductions consist of butterfly valves and passages that manage air flow through the plenum for the best performance for the engine's RPM. The new system included a new "long-nose plenum with additional valves to better manage air flow for optimum efficiency (
Dual/Multi Ram Systems
). FBW throttle is controlled by your foot but through the ECM via a Throttle Position Servo so that there is no hard connection to the gas pedal. The advantages? I'm not sure. It also received a revised timing belt tensioner and oil cooler.
4L30E 4 speed Automatic Transmission
The 4L30-E 4 speed electronic transmission shifts smoothly and has a Sport Mode that lets the engine rev close to redline before shifting to squeeze every horse out of it. The transmission uses what Cadillac calls adaptive logic but what that means, I haven't a clue. Some owners lament the lack of a 5 speed manual transmission but this automatic isn't a bad consolation prize. It has its quirks but generally gives good service with quick sharp shifts, up or down, plus the option of hitting the Sport button when you want that extra pop. The transmission can't be too pedestrian. BMW, among others, used it in some of their cars. The transmission also has a Winter Mode (the mysterious Snowflake button) that locks out 1st and 2nd gears for 3rd gear standing starts with less torque to the wheels for better traction in snow & ice. It can only be activated when stopped and disengages automatically above 30 MPH. It works but not as well as FWD or 4WD. Let's face it, our cars are light in the rear so they're at a disadvantage. The Winter Mode works better if you use real snow tires at all 4 corners instead of all season tires and pack some sand bags in the trunk. Be sure to anchor them to the rear shock towers to stop them from shifting and keep that weight over the rear axles. Snow tires and sand bags. Not a magic bullet cure, just better.
1999 Catera Sport
2000-2001 Catera Sport
If you prefer a sportier ride and sharper handling then you want a 2000 - 2001 Catera Sport. Cadillac finally delivered on the full Opel MV6 suspension they promised at the beginning. The MV6 was promised from the begining but not truly delivered until 2000. It's underpinnings are stiffer, but not harsh, and tuned for the backroads. There is less body roll than with the standard Catera and the Sport's wider 235/45-17 low profile tires (standard size was 225/55HR16) keep the car planted. There was a 1999 Catera Sport but it was an intermediate step to this one. The '99 Sport had firmer damping and stiffer springs that became the 2000 Catera's base suspension. Even firmer and stiffer components were used for the 2000 Sport. The '99 Sport had unique 16 inch alloy wheels, front Recaro Sport Seats, re-contoured rocker panels, and a rear wing. The 2000 - 2001 Sports came with a satin silver grille instead of chrome, unique 5 spoke 17 inch alloy wheels, a rear wing, satin silver interior trim in place of the standard faux wood, and exclusive HID headlights for superior lighting, but lost the gently contoured rocker panels. "Motorweek" road testers at the time praised the 2000 Catera Sport and called it comparable to Europe's best. They also drove the 2000 Catera Steinmetz Concept, with its centrifugal  supercharger, and loved it even more.
(2000 Catera Sport & Catera Steinmetz Concept)
2000 Cadillac Catera Steinmetz Concept
Other than the K&N style intakes kits that increase airflow plus provide a raspy howl and a few free flowing mufflers, there's not much engine stuff here for an orphan like the Catera. I guess a less restrictive intake and exhaust might be good for 2 or 3 HP. Maybe a little more but don't believe the advertising. Check for Vauxhall/Opel stuff on British and German Ebay but remember, the Catera uses a unique ECM so Omega performance chips won't work. They won't even fit. Beware of performance modules claiming to increase power and mileage. They're just resistors, that keep the fuel/air mix rich. They fool the ECM to think the engine is cold so it increases the fuel spray to warm it up. Normally the ECM reverts the mix to its normal ratio after a few minutes but this "chip" prevents that.
UPDATE:
Thanks to our friends at The Omega Owners Forum (OOF) in the UK there is a new way to increase the power in our Cateras. It entails swapping the 3.0L V6 for the 3.2L V6 from the 2003-2004 CTS and replacing its heads with ones from the Saab 2.5L V6 along with other bits of the three engines. They are all from the same family of GM engines so the parts swap around with little fuss. Follow the link and read more about it below.
Engine Upgrade Project: 240-250 HP Catera 3.2 Liter (LA3) V6
http://cateraowners.forumotion.com/t521-build-a-catera-performance-v6-240-to-250-hp
There are owners exploring V8 engine swaps but most those are still in the project stage, except for the magnificent 7.0 liter/500 HP V8 Lingenfelter Catera, and a few shadetree V8 installs I've found. Some owners have fabricated true cold air intakes for a breath of fresh air. At the rear some are trashing the original twin mufflers for a crossover X pipe and high flow glass-pack mufflers. Some keep the large resonator at the rear while others toss it. Though it appears to have a single exhaust with twin tips the Catera has a true Dual Exhaust system from the factory. Just what performance gains, if any, by modifying it I don't know but the glass-packs couldn't hurt and sound great if that's what you're after.
(Lingenfelter Catera V)
http://www.pbase.com/elvin315/the_catera_v
(Catera V8 Home-Build)
http://www.cadillacforums.com/forums/cadillac-catera-cimarron-forum/130818-cant-wait.html#post1397344
Suspension Upgrades
http://cateraowners.forumotion.com/t108-catera-suspension-upgrades-overview
http://cateraowners.forumotion.com/f11-suspension
Improved handling is available via the aftermarket for any year Catera, Base or Sport. Suspension upgrades include discarded 2004-2006 Pontiac GTO springs. They'll fit, front & rear, and lower the car approx an inch (25.4mm). There used to be lowering springs from Eibach, Vogtland, Intrax, and others, but they've been discontinued. The GTO springs are slightly stiffer than the Catera's and along with the car's anti-sway bars, help resist body roll in the curves.  The Pontiac's rear shocks will also fit, but not the GTO struts. Alternatives are Koni, KYB, or Bilstein struts & shocks but using any performance rear shocks means sacrificing the rear self-leveling feature and that includes the GTO shocks. Want to keep the self-leveling? Then use the AC-Delco air shocks for the Catera Sport, or Monroe air shocks. Suspension tower braces to reinforce the front end are available from Germany or the UK. Some front & rear polyurethane bushings from the BMW M5, Pontiac GTO & G8, Opel/Vauxhall Omega B, and Holden Monaro & Commodore will fit the Catera. I bought a front set made for the Omega from PowerFlex in the UK. They greatly improve steering response and handling. Polyurethane bushings extend replacement intervals over the original rubber ones. Some rear bushings allow fine tuning of the camber ajustment back there which is normally non-adjustable.
(
Catera Suspension Upgrades
)
'04 GTO Brake Caliper Upgrade
http://cateraowners.forumotion.com/t275-catera-braking-upgrades
http://cateraowners.forumotion.com/f9-brakes
The Catera's brakes are good, and stand up against well comparable sport sedans of its day, but can be made even better. Luckily the last ever Pontiac GTO and the Catera shared some Opel ancestry. The dual piston front brake calipers & hoses from the 2004 Pontiac GTO are a direct bolt-on. A big improvement over the Catera's smaller single piston units. Load them with C5 Corvette high performance brake pads. They provide a larger friction zone than the GTO's pads and are a perfect fit. At the rear the Catera has dual opposed piston calipers and solid discs. During the last half year of production they were upgraded by the factory to thicker vented discs with wider calipers to accommodate them. I'll upgrade the rear brakes on my Catera Sport as soon as I find the cash. Add drilled and/or slotted rotors (front & rear) and you can slow the rotation of the Earth.
(2004 GTO Brake Calipers)Final Thoughts
As I said before, I love my Catera. The engine performance, the handling, the comfort, the styling, all of it. But don't let my enthusiasm sway you. She does have issues. It all boils down to this: If you're looking for a dependable daily driver, the kind of car you can park and forget at the end of the day. One whose maintenance schedule you can ignore. A car you can subject to abuse, then the Catera isn't for you. Buy an Accord or Camry. If you want a true German "driver's car" that, like a thoroughbred horse, requires regular "grooming" then ..............
Yeee-Haaa!  

Visit my Catera/Omega Photo Album:
http://www.pbase.com/elvin315/the_catera
Last edited by elvin315 on 12/30/2015, 03:38; edited 89 times in total (Reason for editing : Fine tuning.)



Number of posts

: 44


Age

: 65


Location

: Warwick, New York


Points :

56


Registration date :

2008-05-21



Awesome information brother! Very informative. My 97 Cat's got 80,000mi and has not given me much trouble, just tensioner pulley replacement and minor interior light glitches. After reading this I'm looking into replacing the hbv and cps. Poly bushings sounds good too. Im due for new suspension anyway. Thanks.



Number of posts

: 5


Age

: 39


Location

: Waterbury, CT


Points :

9


Registration date :

2013-01-13



Holy Cow man, that is some seriously good stuff here, thanks for posting it!!!



Number of posts

: 164


Age

: 35


Location

: Des Plaines, IL USA


Points :

244


Registration date :

2008-05-06






Number of posts

: 5


Points :

5


Registration date :

2014-08-16





Similar topics
---
Permissions in this forum:
You
cannot
reply to topics in this forum