hey everyone, especially MV6, i was hoping that someone who is good with wiring could help me out....i didnt do my research before i started the project but i decided to get a tach with clock on ebay to upgrade my original plain clock on my 1983 el camino. I have all the other gauges so i got the adaptor to match up with the circuit board and i had no problems putting the tach in. I found the little white wire that is hanging under the dash and using a multimeter determined that it went to the tach pin in the connector. i then added a wire through the fire wall going to the tach position on the distributor. However when i connected the 2 the car wanted to short out and stop running. i then tried connecting it directly to the coil post on the adaptor, still the same thing. Can anyone tell me whats going on? It seems like it should be working fine but i guess its grounding out for some reason, and i have no idea why. Im so baffled, if anyone can shed some light on this, that would be great!




Number of posts

: 188


Age

: 34


Location

: North Carolina


Points :

222


Registration date :

2010-02-07



I am not sure how those older systems work, otherwise I would love to help.

Now without that wire is your tach working? I would leave it alone if its grounding out, or always use a fuse inline to prevent something form catching on fire.



Number of posts

: 164


Age

: 35


Location

: Des Plaines, IL USA


Points :

244


Registration date :

2008-05-06



no, unfortunately i need that wire to get a reading from the distributor to send to the tach gauge. i believe that elcos from the factory didnt come prewired for a tach if they had a clock installed originally....yet, the circuit board on mine is the correct one, (the holes will match up with a factory clock bracket plate or tach bracket plate)...the clock inside the tach is working, so its clearly getting power but no the tach doesnt get a reading. the weird part is when ignition is off it reads approx 1500 rpm, but when ign is on it reads 0 rpm. then when i try to connect it to the distributor it grounds out...thats why im confused. hopefully that makes sense.



Number of posts

: 188


Age

: 34


Location

: North Carolina


Points :

222


Registration date :

2010-02-07



hope these will help...top one is a 72 but its somewhat similar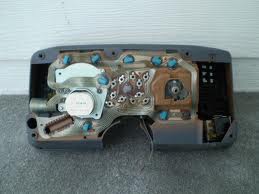 Number of posts

: 188


Age

: 34


Location

: North Carolina


Points :

222


Registration date :

2010-02-07



(above) speedo is on the right, tach left, the white box is the clock attachment



Number of posts

: 188


Age

: 34


Location

: North Carolina


Points :

222


Registration date :

2010-02-07





Similar topics
---
Permissions in this forum:
You
cannot
reply to topics in this forum